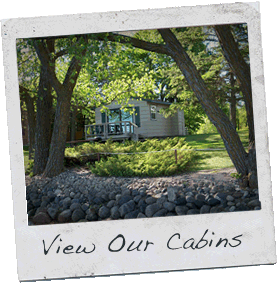 ~Welcome to Big McDonald Resort!~

We invite you to vacation with us on beautiful Big McDonald Lake. Our resort is the only one on this quiet 1,000 acre spring-fed lake located in Otter Tail County, known as "Lakes Country" for its 1,048 enchanted lakes nestled amidst rolling hills and expansive hardwood forests.

Big McDonald Lake boasts water clarity of up to 25 feet, among the cleanest in the state. Our eight cabins are located on level grounds within 40 feet of the water and offer excellent views. Easily accessible from I-29 or I-94, for fishing, boating, swimming or just plain old relaxing, you can experience it all.

We are committed to providing a quality resort experience, from well maintained grounds and immaculate cabins, to a friendly family atmosphere.
Spend your vacation with us and start a new tradition!